"NO MO GAMES" SINGLE Press Release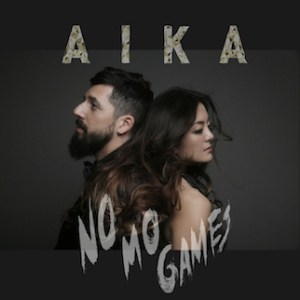 AIKA Single "NO MO GAMES" Release date: June 16th (Tue) 2015
Single "NO MO GAMES" will be released on June 16th (Tue) on "iTunes" and "Vevo Youtube"
NO MO GAMES iTunes: https://itunes.apple.com/album/no-mo-games-single/id996743427
NO MO GAMES MUSIC VIDEO:https://www.youtube.com/watch?v=SQA71JTTNQU
"AIKA's warm voice, intimate songwriting and unique sound is "the new standard"-YAHOO MUSIC!
AIKA is a musical duo based in Los Angeles California consisting of Aika and Nicolas Farmakalidis. Aika best known for her debut record "Ai-Wo" (EMI Records) which charted TOP 10 and was an international radio success, her classical mastery of the saxophone and flawless vocals, and Nicolas Farmakalidis a producer/songwriter who has worked with artists such as Marty Friedman (Megadeth), Grammy winner Eric Johnson, Rapper Mondo Marcio, Wendy Starland amongst many others.
In anticipation of their widely anticipated new album 'NO MO GAMES" AIKA releases the lead single "No Mo Games". Featured on the song is Aika on vocal and sax, Nicolas Farmakalidis on keyboards, Hiroyuki Noritake (from platinum selling band T-Square), Jiro Okada on bass (Prism) and legendary japanese guitar player Masayoshi Furukawa. Produced by Nicolas Farmakalidis for NeilaProductions, this latest single is sure to captivate the audience and create a buzz in the scene. Combination of Indie Pop, Big Band, Flamenco guitars, groovy beats and Aika's colorful vocals, this song is as stunning of a performance as anything released by AIKA since the 2006 release "AI-WO" (EMI Music Japan). With this new offering and the full-length album to follow, "NO MO GAMES" AIKA departs from the safety of Japanese Pop/Jazz and forges an adventurous trail into western contemporary lyric, melody and song. This first single is meant to encourage the listener to dig deeper into who AIKA is and what is her vision for the music of today. Since moving to Los Angeles a few years ago AIKA has focused on broadening their musical horizons keeping in tuned with the modern soundscapes and intertwining them into their own unique sound.
All Inquiries:
Neilaproductions: [email protected]
Official Website: https://www.aikaofficial.com
Facebook: https://www.facebook.com/aikaofficial
Twitter: https://twitter.com/aikamusic
Instagram: https://instagram.com/aikaofficial/
Blog:http://ameblo.jp/aikamusic
YouTube: https://www.youtube.com/user/AikaOfficialMusic

A  I  K  A [àh-ee-kah]
Named after their lead singer Aika.  Based in Los Angeles, CA.
Aika : Vocal/Songwriter/Saxophone/Guitar
Nick :Producer/Songwriter/Keys and Toys
Their music is a combination of catchy melodies and elements of Indie-pop, Pop, Rock, Acoustic, Electronica and Jazz.
Aika's unique melodies and songwriting combined with her colorful vocals and Nick's extraordinary sound it's what makes AIKA such a distinguished band.
Lead singer Aika is known for her debut album "Ai-Wo"(EMI JAPAN) which reached the top 10 Japanese Charts on its first week of its release.
Nick has produced and wrote for many international award winning artists ( Marty Friedman, Eric Johnson , Ayaka Hirahara , Laura Rizzotto, Romain Collin Trio, Reagan Browne, Alex Economou amongst many others) and has 4 Top 10 records in Japan and recently a top 10 in the Rock charts USA .
Their song "Path Of Independence" turned GOLD now going for Platinum.  Furthermore, In 2011, they released "Dancing Arrows" that was used for the official theme song/promotion song of the Hollywood movie "IRONCLAD"  featuring Academy Award nominee and Golden Globe winner Paul Giamatti (Barney's Version, 12 years a slave), Brian Cox (Troy, X-men), Kate Mara (House Of Cards), James Purefoy (The following).
Also, Their song "ALL HE HAS TO SAY" is used to promote Autism Awareness for  "Autism Speaks".
Notable performances include the OSAKA JO(CASTLE) HALL where they performed in front of 10,000 people, JZ BRAT with guest star Marty Friedman (Megadeth), Paradise Boston, The Living Room NY,  Rockwood Music Hall, Room 5 LA.  Furthermore AIKA has been touring  Japan for the last 8 years.  In 2014 AIKA finished their very successful Japanese tour (with Ayaka) #AIKAJAPANTOUR (30 cities) which led to a sold out show (AIKA LIVE IN TOKYO) at KIWA in Tokyo Japan, with rave reviews.
In anticipation of the new record "NO MO GAMES", they've released their latest single, the Bonnie Raitt classic "I can't make you love me" which reached the TOP 30 charts on TwitMusic on its first day of its release.
In November of 2014 AIKA released their rendition of  Alicia Key's "We Are Here".
AIKA released the lead single "NO MO GAMES"on June 16th 2015 and 2nd single "Senseless Birds" on Decemeber 8th 2015.
New album "NO MO GAMES" is released in Feb. 2017.